About Us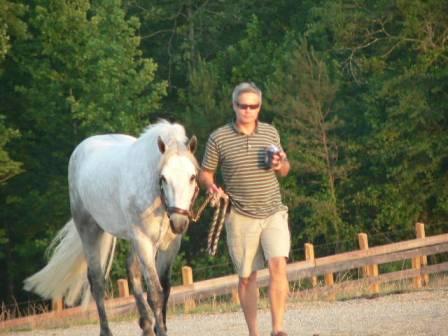 Hidden Creek Horses was established in 2001 by Roger Brown and Donna Miller. After years of searching and hard work, they were able to finally realize what had previously only been something they saw in their dreams. In June of 2001, Roger, Donna, Ethan and Devon moved from the "suburbs" to a little piece of paradise. The family specializes in finding and training sport horse prospects. Once sold, these horses are so successful in their new homes because they are given a proper foundation with tons of attention (there are never more than 4 horses living at HC, plus Petie of course) and are completely adjusted to the routine of daily riding. They leave the property often to school at local farms, and compete as far away as Florida, Kentucky, Tennessee, North and South Carolina and Virginia.
Hidden Creek Horses specializes in Connemara ponies and larger Connemara crosses. We have been involved with the breed since 1996 when we purchased No Secrets, a half bred by Ian McVeigh. We have owned various part and full breds since. In 2006 we decided to import our Stallion, *ArdCeltic Art. Our model was to develop Art as a performance pony before breeding our own sport horses. Art has exceeded all expectations and in four years has developed from an unbroke three year old into a very competitive dressage and eventing stallion, competing and winning at 4th level dressage and Intermediate Eventing. He won numerous ACPS and national awards and is recognized throughout the world for his accomplishments.
After we lost Art in 2013 we searched all over Ireland and France for the right stallion prospect.  There were many that were very tempting but in 2019 we decided on *Coud'Poker (Cooper) and have never looked back.  He is a lovely model with the kindest most giving temperament.  He arrived as a 7 year old having never been backed and in a year was competing Preliminary eventing.  A tribute to his trainability and work ethic. 
In 2020 the vision to breed a stallion quality N/N Art colt was realized when Jocelyn Davies (Devon Ridge Farm Canada) bred the lovely colt Devon Ridge Oliver Art.   He is named in part after Art's breeder Oliver Rogan.  This colt will join Hidden Creek Horses in Spring of 2021.
Above photo: Art and Roger out for a stroll at Poplar Place Farm Area III Championships.