Specializing in the Breeding, Training, & Selling of Sport Horses
Hidden Creek Horses STANDING Connemara Pony Stallion *ARDCELTIC ART - 2009 ACPS HORSE OF THE YEAR - INSPECTED AND APPROVED: AMERICAN CONNEMARA PONY SOCIETY; ISR/OLDENBURG NA SPORT PONY DIVISION; GOV/WESER EMS GERMAN RIDING PONY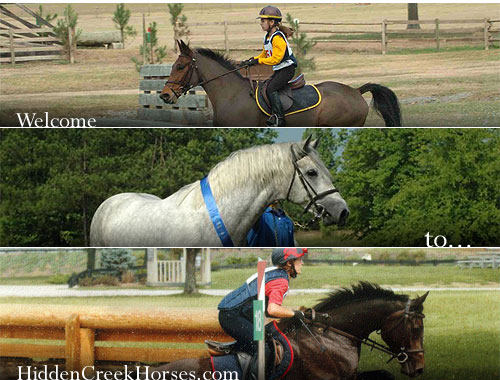 Welcome to HiddenCreekHorses.com.
We are a family-operated farm in Alpharetta, Georgia specializing in starting and bringing along Sport Horse Prospects - including Purebred Connemaras, Connemara Crosses, and Irish Sport horses. We also stand the imported Connemara Stallion, *ArdCeltic Art. Art has all the right components - brains, personality, athleticism, and pedigree to produce the ideal sport horse or sport pony. He has also been inspected and approved by the American Connemara Pony Society.
Thank you for visiting our website.
770 569-0839 - home
678 491-0717 - cell
donna@hiddencreekhorses.com

These are our current competition horses. They are also our friends and companions and since they live with us, are our pets!
horses for sale at Hidden Creek and outside owned performance horse offerings for sale
Horses trained and sold, Irish Sport horses and Connemara crosses trained and sold.
Billy Cavalier (BC) is a 2013 Anglo European Sport Horse stallion bred by the Billy Stud. He is a combination of the best European jumping and Irish Eventing bloodlines.
*ArdCeltic Art - Imported Purebred Connemara Stallion approved Weser Ems
Devon and Art Intermediate at the Fork 2012
*Additonal pictures of the Connemara Eventing Stallion
Breeding information - collecting and shipping fresh cooled semen shipped AI
Connemara warmblood thoroughbred cross
2010 Sport Horse foals by ArdCeltic Art
ArdCeltic Art 2009 sport horse foals
View competition results for our horses
About Connemaras History and Origin of the Breed
A short history of Hidden Creek Sport Horses and it's founders.
Contact Hidden Creek Sport Horses