Connemara Stallion


*Coud'Poker Tartifume


Sport Pony/Sport Horse Stallion




Standing at Hidden Creek Horses


N/N HWSD
ACPS Registration No. S2004 LVI

Bred in France, Coud'Poker (Cooper) is a magnificent 7 year old bay purebred Connemara stallion by Westide Mirah II.  He is out of a Quitus De La Loue (Dexter Leam Pondi) x Don Juan x Naughty Van Graaf Janshof mare.  International and Grand Prix ponies can be found on both sides of his pedigree.  His dam line boasts Grand Prix ponies such as Ni Oui Ni Non Tartifume and Violin II.  His sire Westide Mirah II (WM2) needs no introduction, having jumped several Grand Prixs with child riders, currently jumps with an adult in the 1m25 and has won a 1m45 Puissance.  Two of WM2's very good products (Vandal du Tyria and Atila de Talforest) are competing currently in Grand Prix with child riders.  His grandsire Westside Mirah is one of Irelands most successful sire of showjumping ponies.

Coud'Poker's dam sires Dexter Leam Pondi and Don Juan also need no introduction.  Dexter Leam Pondi participated in Six European Championship, winning 2 team medals and once placed 7th individually. He won 5 Grand prix CSIP.  Don Juan V was also a Grand Prix Pony and is well known for having produced at least 15 offspring with IPO of 145 and greater. 

As a 4 year old Coud'Poker won 1st of stallions/geldings age 4 to 10 and reserve senior champion 4 - 10 year old at the regional Lamballe show in France.  He will begin his under saddle career on arrival in the US.
Coud'Poker has ~ 18% blood with three extraordinary gaits and a scopey powerful jump. 

Cooper is now going well under saddle.  Here is cross country schooling video after 30 days!  Coud'Poker 30 days under saddle

Coud'Poker now two months under saddle in his first 3 phase schooling show where he finished on his dressage score:  Cooper first Schooling Show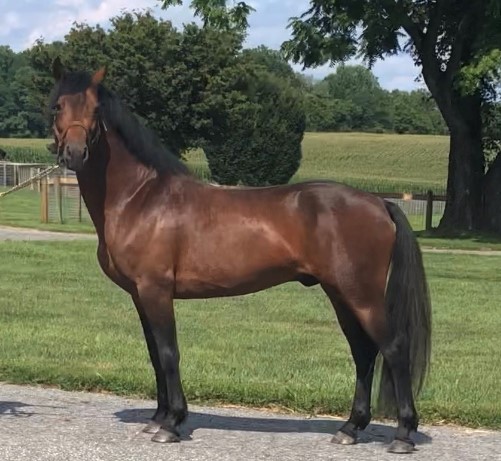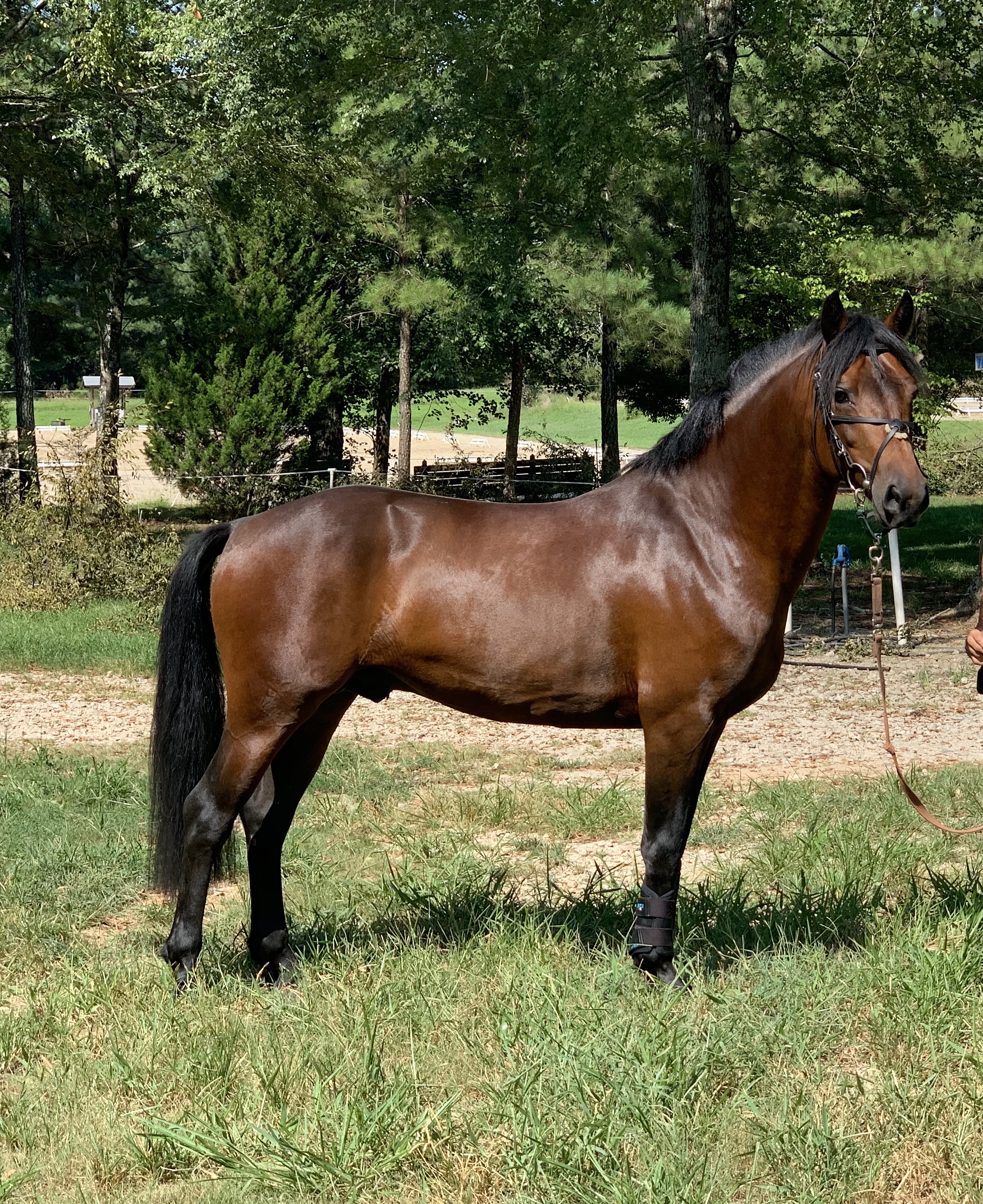 Two products of Westide Mirah II: Vandal du Tyria and Atila de Talforest