2006 and 2007 News
---
2007 NEWS AND EVENTS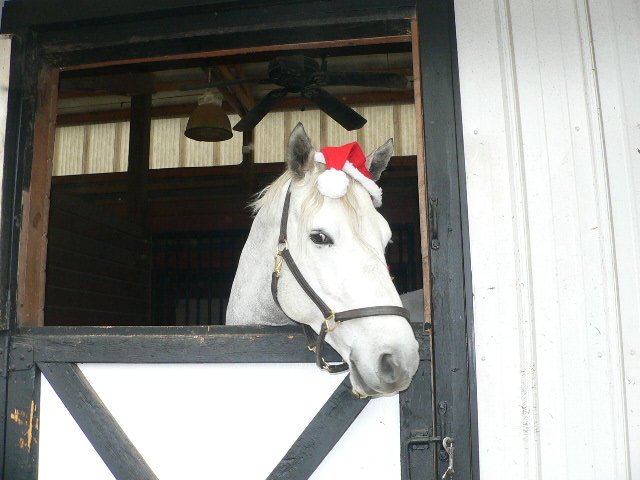 December


HAPPY HOLIDAYS AND BEST WISHES FOR A FANTASTIC 2008!!!!!

It has been very hard to keep up with the news page, but finally got some time.


October was quiet and November started out well with our excitement over going to Poplar Place Horse Trials in mid November on a "bye" weekend for soccer. I was to move Monte up to Prelim, Devon was to do her second Prelim on Limerick, and Ozzie was to make his debut at Novice. With her successful run at the AECs, and a lot of work on her show jumping Devon was ready for another Prelim.

Saturday was fabulous - after mediocre dressage, all horses had great show jumping rounds. Unfortunatley, Donna had a dirt bike mishap and broke her collarbone/shoulder and could not run Monte and Ozzie XC on Sunday. Devon ran Limerick and had a great run other than a glance off at the corner. She is still learning that technical combinations are harder than they look.

We also said good-bye to Ozzie at Poplar. He went home from the show with with his new "mom' Kari Rohrbaugh to Arkansas.
Devon had also decided that now was a good time to sell Limerick. They had "grown up" together and she felt it was time for both to move on. So in the week following Poplar, we had sold two horses. Limerick went with his new family - Rich and Rhonda Gailey and their two children Riley and Parker, in Covington, GA. We are so very fortunate that both of these much loved hores are in fantastic homes.
HORSE SHOPPING IN IRELAND AND ENGLAND.....
Over Thanksgiving, Devon and Donna went to Europe to look for a new horse for Devon. We had very specific criteria, and hoped that this time of year would bring good prices and many to choose from. We looked at about 9 horses in Ireland, and about 13 in England. Four sold before we even got there. We were very fortunate to be shown around Ireland by Yvonne Monahan, and around England by Kate Lukas KateLukasEventing. They both really know their stuff.

Fortunately we had several that ranked very high on our list and decided on a super ISH named Dynamic Image. He is a draught/TB cross with a splash of Connemara. He has done 8 prelims, finishing the last two in 5th and 2nd place.

Dan left England on Dec. 12th and arrived home on December 16th in very good shape. He has settled in well and we are so pleased with him. We are shooting for Poplar Place Horse Trial in January. Donna is planning to bring Art out again, so that will be fun.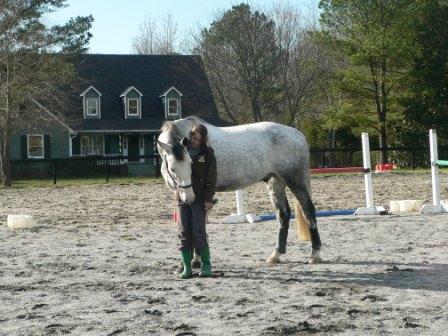 September
The AECs in Chicago were great fun. Devon and Limerick placed 10th in a huge field of Junior Training riders finishing on their dressage score.
Donna and Monte finished 9th in the Amatuer Training division, also on their dressage score.
Soccer season has started and we will not be doing much competing this fall, however we will try to squeeze in some schooling. Monte is ready to move up to Prelim and hopefully we will be able to get to the Poplar November event.
*****News Flash******
Art ties for first - 4 year old Spalding Labs Young Event Horse Test at River Glen - New Market, TN - August 4th

*****News Flash******
Donna and Monte are in the latest edition of Eventing USA magazine page 17! Check them out if you have a copy!

July 21st
We picked up Devon and Limerick from Blue Hill Farm in early July. We first met Devon, Missy, Jessica, and several of the ParaEquestrian riders in Baltimore at the PVD Ride For Life recognized Dressage show. It was the Para Equestrians' last opportunity to practice before leaving for the UK to attend the the World Para Dressage Championships. It was a great weekend and Devon and Limerick did quite well. Results are posted on the competition page:

>Hidden Creek Horses Competion Results>>

Then back up to Blue Hill for a visit and some lessons before heading home just after the 4th.
June 20th
Unionville, PA; Missy let Devon take a break from work and took her and Limerick to Seneca HTs where they finished second in Junior Training.
Hamilton, GA; With Devon up in PA Donna decided to take Art to the USEA Area III Championships at Poplar Place Farm in the Novice Horse Division. They had a great time and ended up Reserve Champion.
May 30th
Since this is the first post in a while, I will just recap this year's events. In January we decided that Donna would begin preparing Limerick to move up to Prelim., and Devon would take Art out for his first few horse trials. Donna moved Limerick up successfully and realized he had the ability to attempt a one star so they set their sights on the Ocala CCI* for April. It was a pretty rigorous schedule, but attainable. The one star proved to be a challenge for the little horse, but he tried his heart out over a maxed out XC course. By Sunday he was tired and sore, but again jumped his heart out, taking 5 rails behind. In spite of his final score, we were quite proud of him and the experience has really made him grow up.

Devon and Art had a blast together, doing one BN and 2 Novices. She rode him quite well, and gave him a good solid first experience with eventing.

Donna and Monte have also had a great year. Although Monte has not been with us long, his training has progressed in leaps and bounds and he has proven to be an awesome individual. He seems to take everything in stride, and unlike most young horses, settles in to the show environment even better than being at home! Donna moved him up to training in January, and he has completed 3 to date. He has matured with each one. He seems to exude a "happy go lucky" attitude that even a dressage judge noticed and made the comment "happy horse" for his long and low!
After Ocala, Devon took the ride back on Limerick and Donna on Art. They both are happy to have thier "ponies" back.
The Sunday of the VA HT, Devon and Limerick went up north with Missy Ransehausen to her Blue Hill Farm in PA. They will spend the month there; Devon as a working student. As always, we are most grateful to Missy and Jessica for affording Devon the opportunity to learn from the absoulte best.
---
---
June 17, 2006 - ACPS Region IV Connemara Show

ArdCeltic Art
- 1st place Purebred 3 yo
- 1st place Connemara Stallion
- Champion - Purebred In-hand

---
June 23
Donna and Devon took off with Limerick and Art for the Ian Stark clinic at Full Gallop Farm in Aiken, SC. Devon and Limerick went in the Prelim group, and Donna and Art did the BN group. Art was quite impressive, especially considering he is just 3. He ate up the cross country and even provided a lead over the ditch for some of the other greenies in the group. Devon and Limerick learned much about technical Prelim questions.

June 26 - immediately following the clinc they began the long haul up to Blue Hill Farm in PA where Devon will be a working student for the Ransehausens' for the second summer. She thoroughly enjoys her time up there and we are ever so grateful that they invited her back this summer

---
July 15th
Deco Paj (Monte) is now under saddle and doing well.

July 24 USDF Region I Junior Team Challenge
1st place - First Level - Limerick and Devon competed at Morven Park in the USDF Region I Junior Team Challenge. She competed with Courtney and Danielle Blanchard at First Level. The team finished 1st in their division. Devon and Limerick had their personal best score of 72.9%. Congratulations to the team, and many many thanks to Jessica Ransehausen for her phenomenal coaching. You know without Jessica they could not have done it!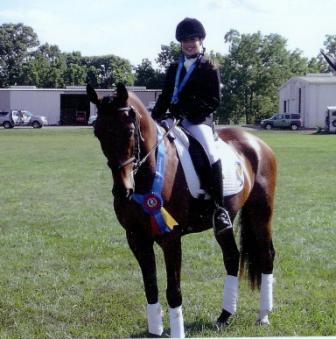 July 27th
We are preparing to head north to PA on August 1st to pick up Devon and Limerick from Blue Hill Farm and then head to Morven Park for the ACPS 50th Celebration. Once we get home on the 7th we will prepare to leave for "The Ark" the following weekend, and then to Tryon at the end of the month so Devon and Limerick can get a couple of Horse Trials in before the AECs in September.
---
August 14
We are back from the Ark. It was a wonderful but tiring weekend. Saturday brought lots of rain, and Limerick is not a "mudder" when it comes to dressage! They still put in a decent test. Cross country was probably their most challenging ever. They went around really well, however Devon was rusty on pace as she has not competed since April and had lots of time faults. Show jumping was their best round ever, a tribute to all the work Missy R. put into them this summer. They finished a respectable 6th and learned a lot. Now to unpack and repack the trailer once again and get ready for Tryon in 2 weeks.

---
August 26, 27 - Tryon HT, NC
Devon and Limerick 3rd OT
We had a great weekend at Tryon. Weather was perfect, horses were perfect and what could be better than the whole family going to a horse trials in the foothills of the Blue Ridge mountains? Monte came along for experience and entered the OBN division. After 6 weeks under saddle we stayed in the dressage arena and completed the event, all with a great attitude. Now we settle in and finalize Devon's preparation for the AECs.
---
October
Been a while since posting - The AECs took a lot out of us and we have been trying to get things sorted out since. Limerick was suffering from a significant cough during the weekend of the AECs and at the time, we did not know the cause. He was definitely not 100% (and especially under the weather for show jumping) but gave huge effort none the less. We have come to find that he was suffering from an allergic reaction, which we have finally got in check. If you were following the results, you would have noted that they held 3rd place up until show jumping where they dropped 2 rails. By then he was just worn out and wheezing; they did the best they could given the circumstances.
Devon is back focusing on soccer and will not compete until our favorite show, Pine Top Thanksgiving.

---
November
Pine Top Thanksgiving
Devon and Limerick - 1st Place Junior Training
We loaded the horses on Wednesday and headed off to Aiken for Thanksgiving with family. Thanks to Full Gallop and Lara Anderson, the horses had a great place to stay during our visit before heading over to Pine Top Farm on Friday. The weekend was glorious with fabulous weather and fabulous horses. Monte had a great show completing his first Open Novice and finishing in the middle of the pack.